Home Learning in Year 2
Please click on the links given to access sites that the children use in Year 2 to support with home learning. Children should already have access to their usernames and passwords.
WORK SET - 30th March 2020
PLEASE COMPLETE BY MONDAY 6th APRIL 2020.
Please continue to check Purple Mash daily. This is where the main work each day will be set. You will find these in the bell section.
In addition, please check our our new class blog in the sharing section, as below.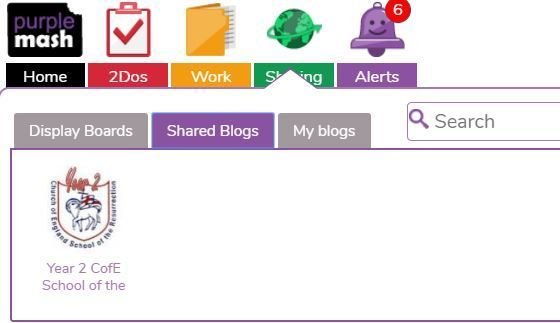 Also, continue to use the other sites listed below.
Everyone should have received multiple reading books, but please also keep your reading up by reading your own books at home too.
Please complete some pages of your SATs booster books.
Writing activity (for in your home writing book) w/b 30/3/2020
Do you know the story of the Three Little Pigs? If you do, do you know the true story of the Three Little Pigs? Have a listen to the story. Can you then story map and rewrite this story, and then re-invent the story using your own characters? You could change the animals, the setting or the plot all together! You could write this in a traditional story format, as a newspaper, as a diary or even as a comic book story. Please email this work to k.mclean@resurrection.sch.uk for your chance for your work to be shared on our class blog!
Maths w/b 30/3/2020
This week, we are looking at fractions. Each day, there is a video on the https://whiterosemaths.com/homelearning/year-2/ website. Please have a look at these and complete in your books.
Spellings w/b 30/3/2020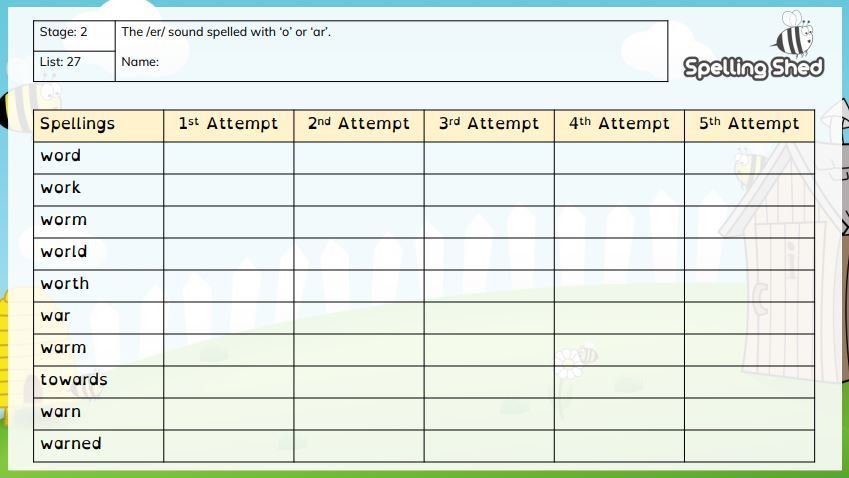 Keep trying your best Year 2. We are proud of you, as always!
Miss McLean and Miss Hunter
Previous Set Work (Please feel free to do this if you have not already done so!)
Writing activity (for in your home writing book) w/b 23/3/2020 :
Re-write the story of 'The Great Paper Caper' by Oliver Jeffers, using your own characters. You could also change the problem (could the competition be different too?). Parents, please photograph this work and email it to me. Alternatively, please allow your child to word process this.
Spellings w/b 23/3/2020: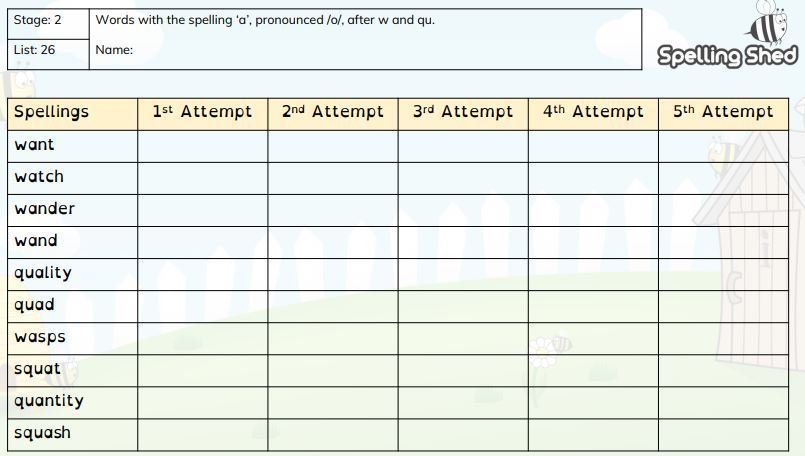 To access this from home, you must use the email: lexia@resurrection.manchester.sch.uk
The children know their username and password.
Children should be aiming to complete 10 units per week. Some of this is done in school. Please do not to exceed this amount to ensure optimal learning.
Children should be looking at stages 1 & 2.
Children can work on all different areas. Please continue to practice the x2, x5, x10 and x3 tables in particular.
This site contains various learning games. The maths area, in particular, is great for home learning.
HeartSmart
Click here to access HeartSmart (PSHE) resources and activities
This website has links to games, video clips and activities linked to different areas from the KS1 curriculum.
For those children still working on their phonics, this website follows our school planning and has games for children to practice their decoding.
Use this website to access reading texts to read online!
Username: resyear2
Password: McLean
Click here for Oxford Reading Owls
Topic Based Learning
Year Two learn about a range of different topics over the year. These are detailed below. Can you create a project based on one of our topics to share with the rest of the class? This could be research, presentations, posters, artwork, writing, reports... your options are endless!